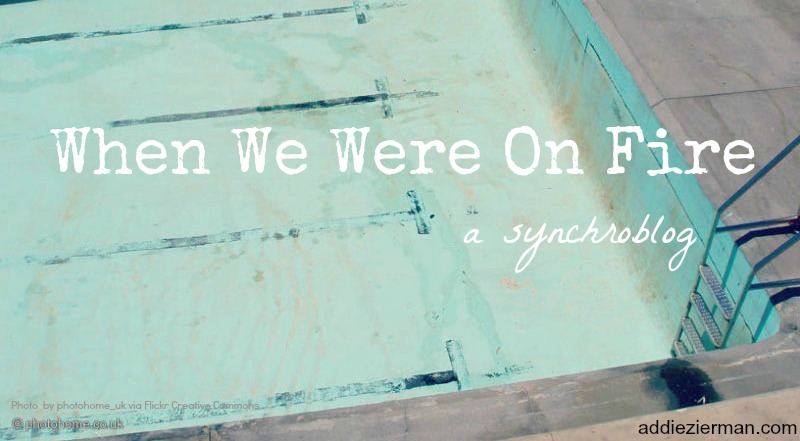 Pull the orange t-shirt over your head, and look in the full length mirror. Blue block letters stare back. Your hair is short, arms are tiny, and you wonder how you'll carry your luggage through the airports of the world by yourself. Somehow it'll work out. The wheels of the suitcase echo the hall into the living room.
Your boyfriend is sitting on the couch, and his perfect sky eyes are tired. You snuggle into his arms for a few more minutes. He's been up all night with you, in the most chaste of ways, and this is of course how it is because you both went to the I Kissed Dating Goodbye conference. Soon, 4am to be exact, he'll get into the minivan with the rest of your family, and accompany you to the airport.
It's the summer of 2000; you're leaving on a mission trip this July day. You hug those you love most goodbye, more orange shirts trickle through revolving airport doors, and you gather in lines to make waves toward Miami and then to Brazil.
What the gospel means to you today is not what the gospel will mean to you some years from now, but you don't know that as you paint your face and head to the slums to share the salvation message.
And people get saved because you and twenty others share God's story. They come forward, forward, forward.
You watch the crowd, a secret wondering within you. You wonder if they come forward because they're attracted to all the blonde heads and face paint. Perhaps they want food or money or someone to look at them as a person to know and not a soul to save. You wonder.
Nothing quiets a questioning mind like a gymnasium filled with worship, speakers, and CCM artists on stage. You raise your hands and shed tears because the words move your heart. These are your heroes, some of them, and they talk of being on fire for God.
The fire is lit to snuff out the wonder.
The fire must consume and burn away everything that is important to you so that God can be number one in your life. He doesn't deserve the number two spot, and you and the others girls discuss this on the way to bed. The group of you, fast friends, make vows to hold each other accountable to keeping God number one, but what you don't know is that a decade from now you won't remember their names.
As you climb in your bunk bed that night, the pictures of your boyfriend taped to the wall make you feel sad. You love him so much, but has he taken over the number one spot? You think he must have because if God was number one then surely Bible verses would have covered the wall around your bed instead.
The orange shirts fly home to Portland, changed, in a fire burning kind of way. You process the flames through slideshows, souvenirs, and being sold out for God. He's hit the number one spot in the summer of 2000, and you hope He'll always reign there.
Break-ups ensue to prove that God is holding his place on the charts. Hearts are broken, minds are confused, and you can't really explain to the boy crying outside why you can't be with him. It sounds something like "Jesus wants all of me" and "We're just not in the same place" and through many tears you think this is the worst pain you will ever know.
That was the summer when God rose to the number one position.
I'm not really sure when He fell from the top. It might have been in September, when I got back together with my boyfriend, or maybe when I changed out my CCM for NSYNC. Maybe it was when my daily, half hour quiet times turned into two minute prayers. What position did God fall to? I don't know, but I know he fell as my fire burned out.
From time to time, I look through my cedar chest and reminisce. The letters written in pencil are quickly fading, the dried roses falling apart, but the folded orange shirt is still bright. I trace the block letters, smile, and remember the days when my spirituality was a chart topping list. Back then, I knew God as a single song, and now I know Him as the music.
{Do you remember days of being on fire? I'd love to hear a bit about your experience. A special congratulations to Addie Zierman on the release of her book When We Were on Fire. Thanks for reading.}